Travel Egypt Now
Booking Request Details
Start Planning Your Journey
Overview
We provide safe travels for anyone across the globe. All you have to do is purchase your flight to Egypt and we will do the rest! We will handle hotel bookings, domestic flights within Egypt and excursions. The steps are as easy as call or text, book your international flight / tour and we do the rest! We speak English, Arabic, Spanish, Portuguese and Turkish, so you can speak to one of our Travel Professionals and book your tour with confidence. Schedule an appointment below to get started booking your tour in Egypt.

Schedule An Appointment To Get Started Booking Your Tour
A Travel Egypt Now Team Member Will Contact You At The Scheduled Date & Time

We have THE BEST tour guides. Our guides are experienced experts.

We provide a 5 star experience. Travel in Egypt with style and comfort.

We provide SAFE travels for ALL. Tour Egypt with peace of mind.

We are NYC based. No more sending money unknowingly across the globe.

We are one of the first LGBTQ+ friendly tours in Egypt.
Special Services:
• Wheelchair accessible services
• English Sign Interpreter Available upon request
• American Veteran Discounts are available *with proof of service
• For students or individuals with their degree in Egyptology or Astronomy: Special permissions with the adminitry of antiquites to temples that are not open to the public are available upon request at an additional cost.
• With proof of age, 30% off for children under the age of 10 years old
• Discounts for groups with 10 or more people are available upon request
Travel Egypt Now Tour Booking Notice:
• International Flight(s) are not included
• All tours must be booked in one month or greater in advance
• Visa must be paid upon entry ($25)
• Any lost or stolen luggages in the airport must be reported with your airline
• Any lost or stolen luggages in the hotels must be reported with your hotel
• We are not responsible for any injuries during your trip. Please advise us if you have any serious medical conditions to accommodate for a safer tour
• No refunds.
• In the event of a global crisis or serious emergency, 30% of your tour will be refunded. You have up to 48 hours before your tour date to bring any matters to our attention. Anything after 48 hours will be considered forfeited and no refunds will be granted.
• To confirm your tour, a deposit of at least 50% must be made in advance.
• To provide the safest and fastest payment services our payment options are: Credit card processing (3.5% of your total cost), Bank Transfer or Zelle. *In person cash payments are accepted at our Brooklyn, NY offices upon your request.
• Any information sent to Travelegyptnow1@gmail.com is 100% confidential
• Submission of booking request does not guarantee confirmation. After you schedule an appointment, you will be contacted by one of our Travel Professionals to book and confirm your tour.
Frequently Asked Questions
What should I wear during my stay in Egypt?
Dress light but modest. Egypt is a modern country, but it is important to dress modestly. If you plan to visit any Mosque, it is important to bring a light scarf.
What's the temperature like in Egypt?
During the summer season (April-October) Egypt is FIRE! Protective clothing and SPF is recommended to prevent sunburn. During the winter seasons (November-March) the temperature can go as low as 30F. Bundle UP!
Is Egypt safe for women?
Like any country, it's important to take precautionary steps. Stick with your guide, they will be the best way to navigate around.
Is Egypt LGBTQ friendly?
Like any conservative country, their beliefs have nothing to do with how you live your life. You respect their beliefs as they will respect yours. Stick to your guide, they will be your best way to navigate around.
What if I don't want a man to guide me?
Women and Men tour guides are available upon request.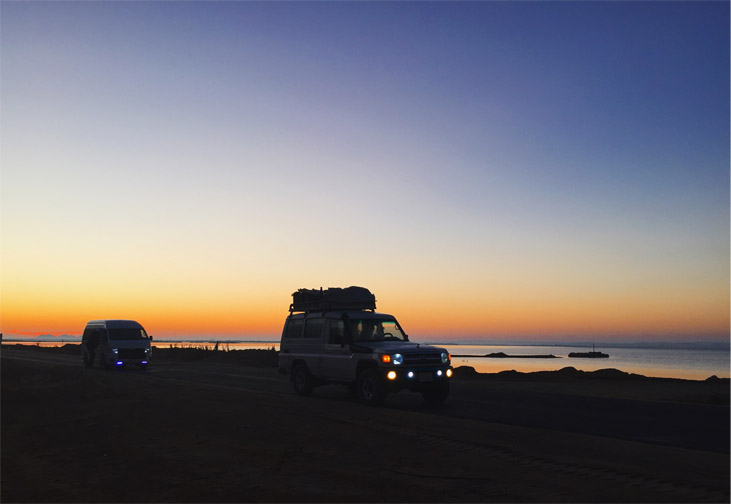 What's Included On Every Tour
Meet and greet services are available upon your arrival and departure
All services include travel assistance during your stay. All transfers will be done by a clean, modern air conditioned vehicle
Hotels only accommodate breakfast. With the exception of The Nile Cruise, Breakfast, lunch and dinner are included for each day of your stay
All of our tour guides are licensed and or have their PHD in these services.
Entry fees in all sights are included as mentioned in our itinerary
Bottled water and transfers are included
All services have charges and taxes included
What's Not Included With Booking
Your visa entry to Egypt
Alcoholic beverages
International Airfare
Any additional tours not mentioned in your package
Personal spending
MOST IMPORTANTLY.. Tipping. For the driver, tour guide, Nile Cruise staff etc. Our employees work VERY hard and tipping is part of their salary. They have families and work long hours. Tipping is the best way to say "Thank You"

SOLO

GROUP

PRIVATE

TAILOR MADE
Destinations To Discover And Experience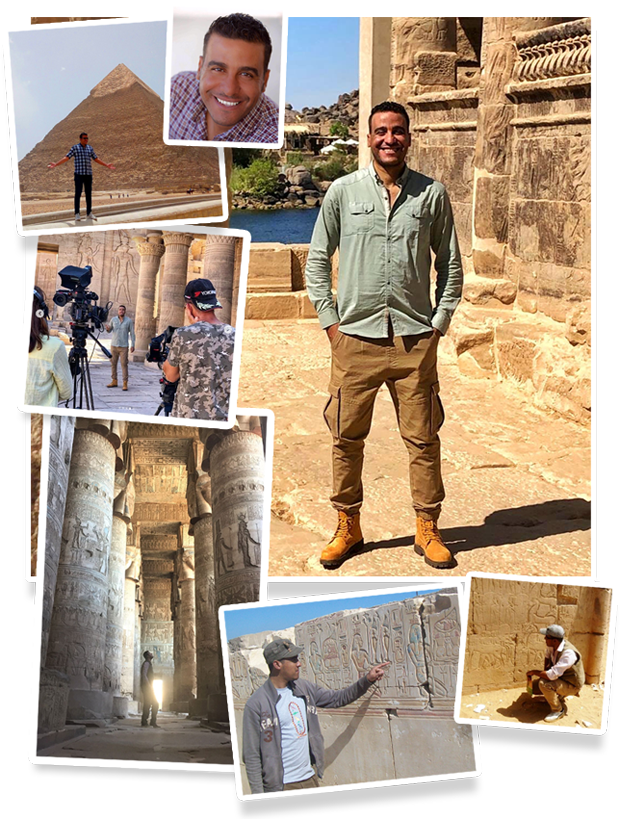 Meet Your Tour Guide to Egypt,
Dr.
Abdelrahman Amin, Egyptologist
and Tourist Guide
Education:
My Education specialty in Ancient Egyptian language (Hieroglyphic) and ancient Egyptian religion.
Master Degree from Benha University, Faculty of Arts, Department of Archeology.
PhD candidate, Minia University, Faculty of Arts, Department of Archeology.
Work Experience:
Co-Founder of the sky over Dendera Project.
Co-Founder and Owner at Pesh Tours Egypt.
Certified Tour Guide from the Egyptian Ministry of Tourism and Antiquities, 2012.
Lecturer | Aug 2013 – present, the Egyptian tourist Guidance syndicate in Luxor.
Lecturer | Jan 2015 – Jan 2016, the Scientific Research Department at Karnak complex.
Team Member| Jan 2015–Dec 2020, the Ambassadors Fund for Cultural Preservation (AFCP) 2015, grant to the Ministry of Antiquities for the Conservation Seti I Temple in Abydos Project.
Publications:
Abydos Where It All Began: A Guide to Seti I and Ramesses II Temples, 2018.
Dendera: Land of the Goddess Hathor, 2019.
Osireion of Abydos: the most mysterious building in Ancient Egypt (In preparation).
The Sky Over Dendera: A Study of the Astronomical Scenes in the Temple of Hathor(In preparation).
What People Are Saying About Travel Egypt Now
⭐️⭐️⭐️⭐️⭐️
"The Best Tour Guide In Egypt."
– Graham Hancock, International Bestselling Author of Fingerprints of the Gods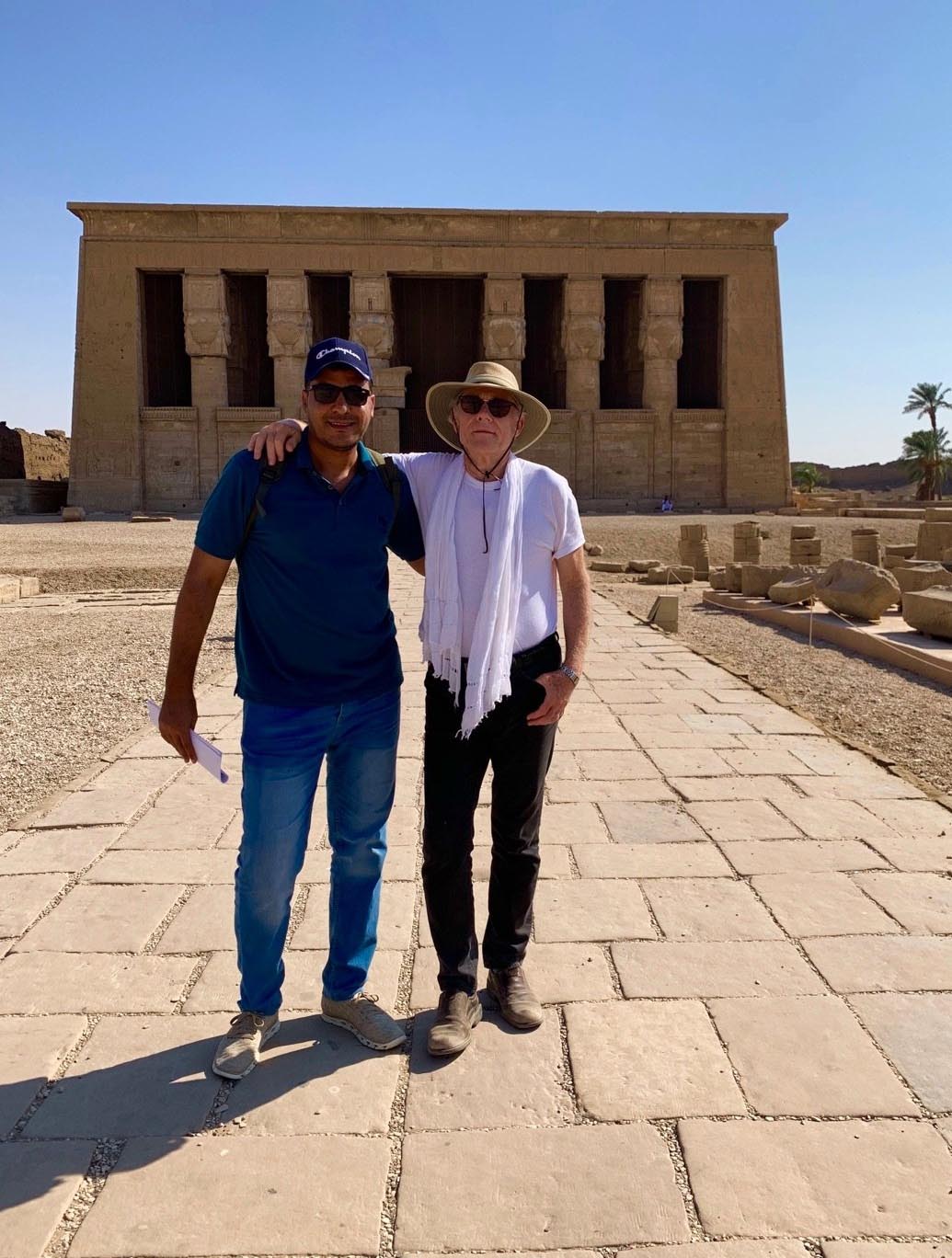 "Recommending the services of Abdelrahman Amin, the best tour guide in Egypt. He's with me at the Temple of Hathor at Dendera in the photograph on the left. Abdelrahman is also the author of the only good guidebook to Dendera – Dendera: Land of the Goddess. He has an MA in Archaeology and History and reads the ancient Egyptian hieroglyphs fluently. He's also a super nice, reliable guy."
– Graham Hancock, International Bestselling Author of Fingerprints of the Gods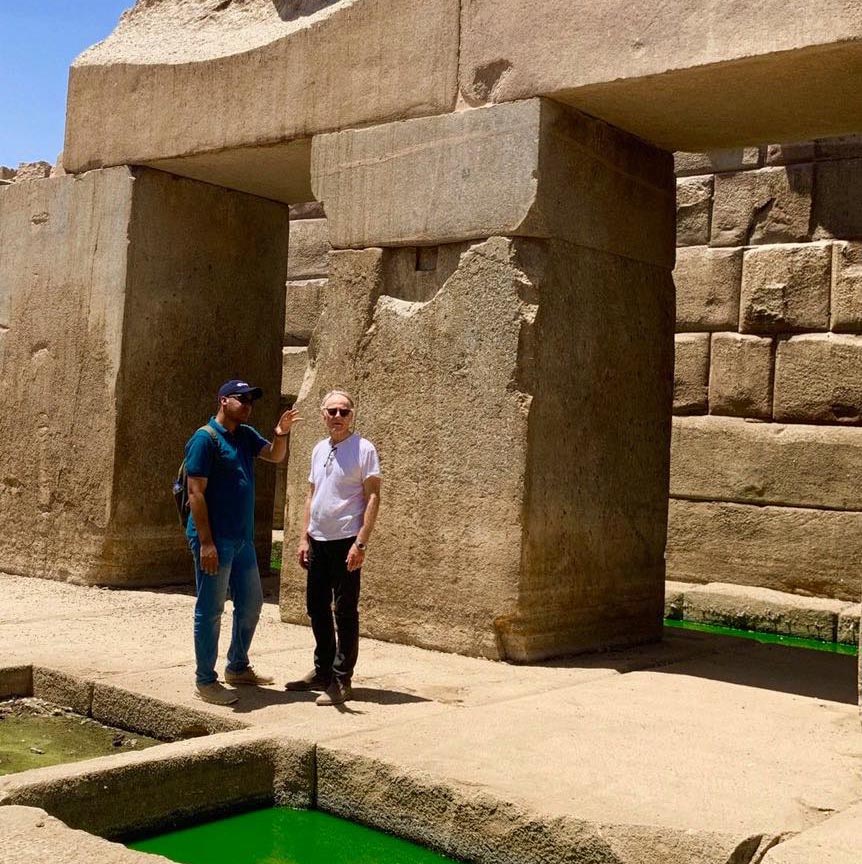 "Deeply Fascinating and Memorable"
⭐️⭐️⭐️⭐️⭐️
"I'm very grateful for my guide Abdelrahman at these incredible sites." Abdelrahman is a fantastic guide and true scholar of ancient Egypt. His ability to read ancient hieroglyphics is incredible, and made my tour deeply fascinating and memorable. I feel very privileged to have had a private tour. I highly recommend him for any tour in Egypt!" – Vernon S. of Los Angeles, United States

"The Transportation Was Very Comfortable"
⭐️⭐️⭐️⭐️⭐️
"We are so happy with this tour and the fact that Abdel was our guide! He was explaining everything in detail and provided answers to all our questions (which were a lot!). The transportation was also very comfortable, we enjoyed the fact that the driver was playing some French music (which we happen to like). Excellent value for money, don't hesitate to book!" – Darina M. of Sofia, Bulgaria

"An Unforgettable Experience"
⭐️⭐️⭐️⭐️⭐️
"Abdel not only replied to our enquiries quickly and efficiently but also turned out to be an excellent guide… Visiting Egypt with such an expert made this trip a quite unique experience and his very warm and friendly personality contributed even more in making it an unforgettable experience." – Valentina aka Miss Lufty, Owner at ManyHappyTravels.com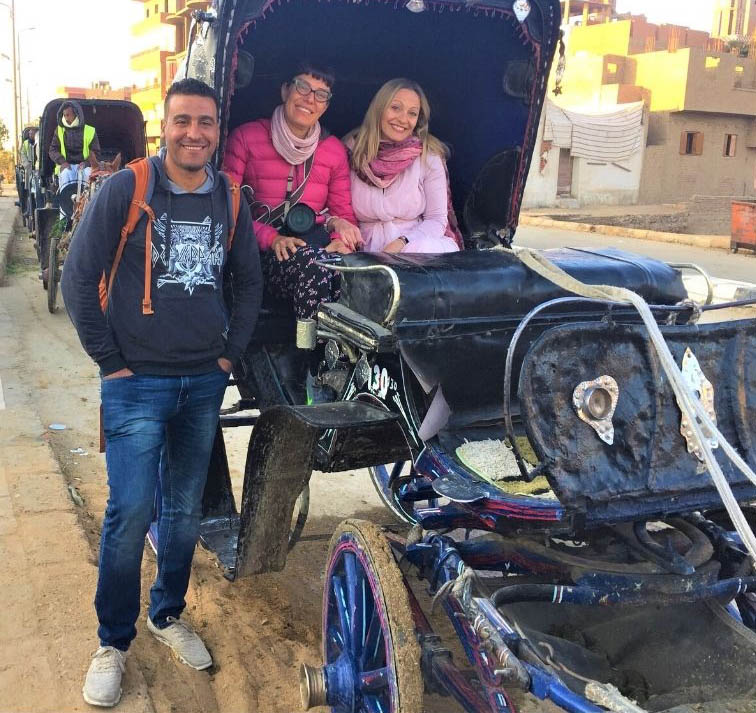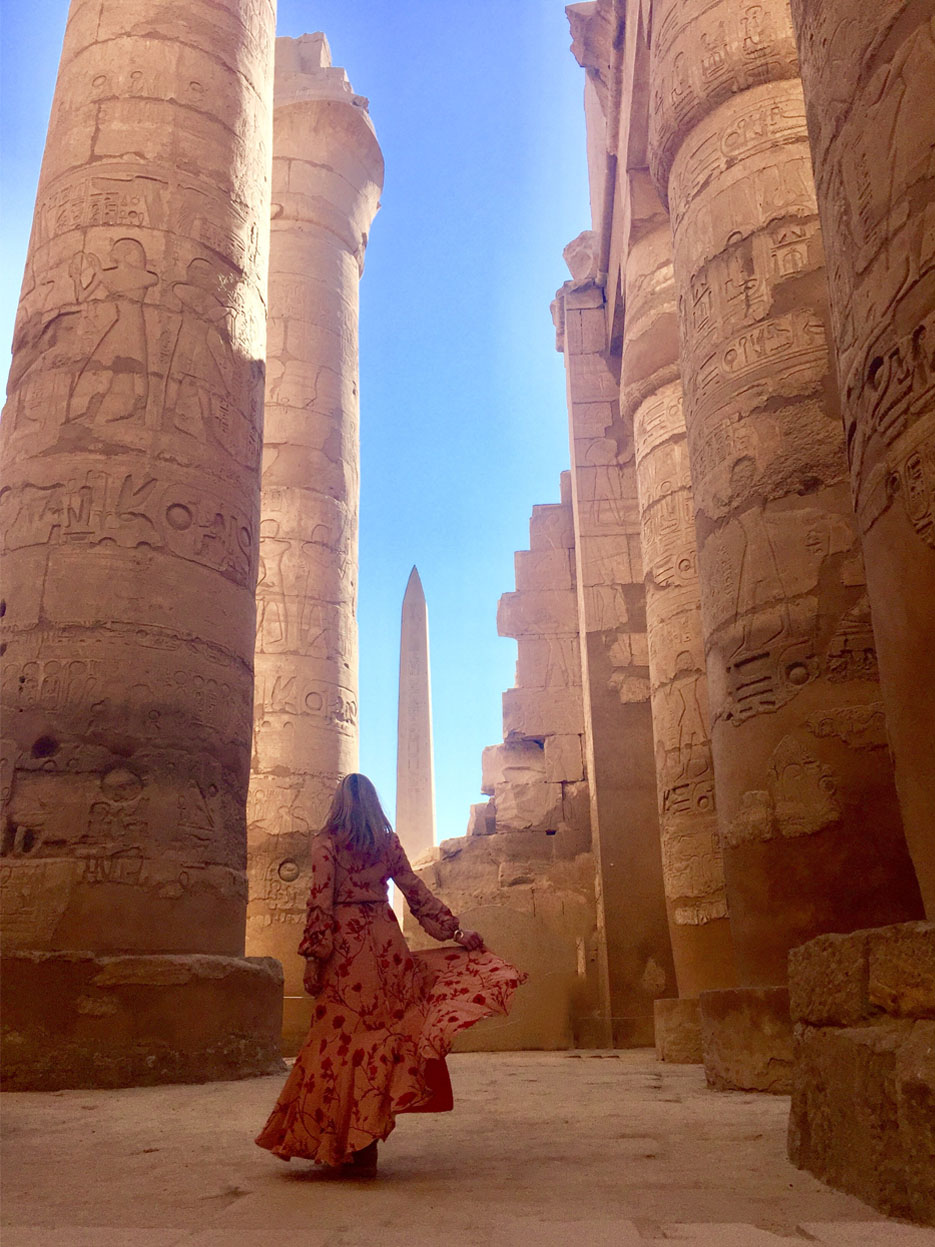 Travel Egypt Now Photo Gallery